How Olympic Athletes Maintain that Golden Smile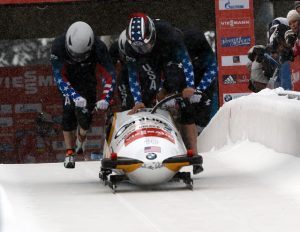 With all the action about to conclude in PyeongChang, South Korea, we've witnessed smile after smile as we watch the winning athletes receive their medals. But not all athletes are so willing to show that pearly smile, it appears.
In fact, in the 2012 Olympics, research discovered that nearly half of the athletes had not seen a dentist in the past year. And a shocking 75 percent had diseased gums, according to a study from the British Journal of Sports Medicine.
Why? These athletes train for long periods of time and experience dehydration from sweating requiring them to refuel with sports drinks and take in extra calories. Some experts assume that these factors contribute to Olympians' challenges with oral health.
Does Oral Health Impact Performance?
At the 2012 London Olympics, one-fifth of athletes said their oral health damaged their performance for the games.
The trend is not new. At the 1984 Olympics, Michael Jordan had to sit on the sidelines due to a significant dental issue. A more extreme example happened during the 2008 Games. Alan Campbell, a British rower, had an abscessed tooth in the final months leading up to competition. The infection spread to his knee, forcing him to get surgery and keeping him from training for six weeks! After placing fifth in the finals, Campbell admitted his tooth played a role in the disappointing finish: "I certainly would have gone quicker."
So you can see, maintaining a healthy smile is not just for the cameras snapping photos of the winners on the podium, it can also help get those athletes to the podium!
Make sure you're always ready to perform your best by making regular appointments with your friendly professionals at Longmeadow Family Dental Care.