Season's Greetings: Healthy Holiday Habits for your Teeth
Tis the season for delicious foods. And with it the challenges of managing how much and how often you indulge.
Here are a few helpful hints to keep you on track toward maintaining that perfect seasonal smile through the New Year and beyond!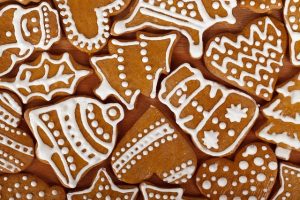 Brush after every meal. When you brush immediately after having breakfast, lunch and dinner, you are less inclined to continue eating. Some families may come to the holiday table early in the day, so if you brush after the meal it creates time between the next sit-down, and it may minimize the temptation to snack quite so much in between.
Remove yourself from the kitchen and dining room. If you're not around food day and night, you will be less inclined to eat. Whether it be shopping, or exercising or binge-watching Netflix, find another activity that takes you away from food.
Floss more often. If you eat more, you'll need to floss more. Of course, you should be flossing regardless, but during the holidays it is especially important since you will probably eat at least a bit more than you would normally. The cleaner you keep your teeth during this time, the more disciplined you may be in not overindulging.
So, follow these helpful hints over the next few weeks and your new year will look brighter and healthier for it!
Happy Holidays from your friends at Longmeadow Family Dental Care!