Show Off Your Smile This Valentine's Day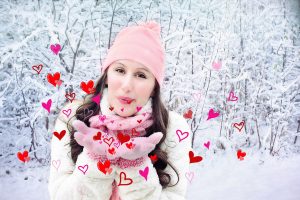 With Valentine's Day quickly approaching, it is a perfect time to show off your confident and beautiful smile! Whether you are celebrating the holiday with friends, a significant other, or adored pet, a pearly white smile is the perfect accessory to accompany your planned festivities! Maintaining proper dental hygiene and scheduling regular checkups with your Longmeadow Family dentist will help keep your smile in mint condition for this year's day of love! Although the dentists at Longmeadow Family Dental focus on fixing your pearly whites, we also want to stress the importance of smiling. Here are the top reasons why smiling will help you spread and receive love this Valentine's Day.
First thing people notice is a smile.
Across the board, both males and females initially notice smiles upon meeting. The more attractive your smile, the more likely it is that you will be noticed and remembered. A beautiful smile reflects a self-confident person who pays attention to detail and radiates joy. Upon meeting someone, you want to make sure to create a warm and welcoming environment with your smile.
Smiles can lift poor spirits.
Science shows that smiling is contagious. By simply smiling, you can increase your mood and the moods of those around you. Putting a smile on your face can lead you to feel actual happiness by changing the chemical makeup in your brain.
Smiling brings us closer to others.
Because smiling is contagious, smiles help people bond. Smiling sends a friendly signal that usually results in the other person smiling back, thus creating a social bond between the pair. In a study of 52 adult women, results showed that the female participants were more inclined to take a step closer towards a person who was smiling. In contrast, the majority of the women paused for a few seconds before moving when instructed to step towards a person who had a scowl on their face. Just by smiling you can connect with others both physically and emotionally.
Smiling is Attractive.
Both men and women can increase their attractiveness by smiling. You see two beautiful people of your preferred sex sitting at the bar. One of them seems to be furious, while the other appears jovial and relaxed. Who would you rather approach? When you see a person that is smiling, laughing, and having a good time, you feel more attracted to their energy and persona.
With these four reasons to smile, you should jump at the chance to brush and floss your teeth in preparation for this Valentine's Day. If you are feeling a little self-conscious about your mouth, be sure to schedule an appointment with your Longmeadow dentist today. We hope your Valentine's Day is full of confident smiles and lots of love!