How to "Spring Clean" Your Dental Health Routine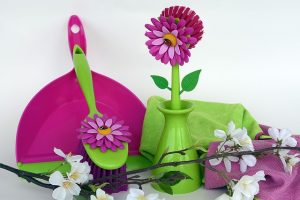 It's spring. Time to clean out the garage, tune-up the lawn mower, and get a fresh perspective on things. That includes your oral health too! While you're getting ready to welcome warmer weather, don't forget to take these steps to ensure that you keep smiling brightly throughout the spring and all summer long.
Step One: Replace your Toothbrush
The American Dental Association recommends you replace your toothbrush (or brush head, if you use an electric toothbrush) every three to four months at a minimum or if you've been sick recently. Toothbrushes are great hiding places for germs! Here are some helpful tips from the ADA:
Store toothbrushes upright if possible so they can air-dry faster after use.
Rinse your brush thoroughly with tap water after use.
Replace your toothbrush if you notice that the bristles have begun to fray.
Never share your toothbrush.
Step Two: Floss Every Day
Sometimes it's just plain tough to remember to floss every day. To make it a bit easier, trying mixing in a bit of variety by using different types of flossing tools:
Floss picks: Floss picks are a good option if it's difficult or painful to open your mouth wide enough to use traditional flossing methods
Waxed floss: Waxed floss is a commonly used option and comes in a great selection of flavors including spearmint, cinnamon, and even rather ironic flavors such as bubble gum!
Dental tape: Dental tape is a thin "ribbon" of floss that slides between teeth easily and can be an option that is favored by some over regular floss.
Step Three: Make and Keep Your Dental Appointment
As you check things off your spring cleaning list, don't forget to make sure you have your family's dental appointments on the calendar. It's the easy way to ensure that your smile will be bright and shiny just like the new season! Call your friends at Longmeadow Family Dental Center or make your appointment now.