Is Teeth Whitening Right for You?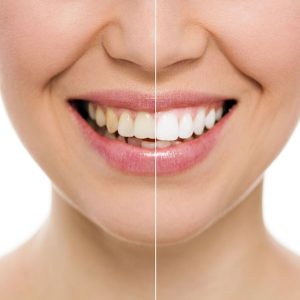 Have you ever wondered why celebrities have such wonderful looking smiles with dazzlingly white teeth? Because in their profession it's critical they look as young and beautiful as possible and a bright smile is a big part of maintaining that image. So many of them have their teeth bleached professionally. The same goes for anyone… a bright smile can work wonders for self-esteem and first impressions.
Why do teeth need whitening?
As teeth age, they darken to off-white or even yellow, stained by food, beverages like coffee or tea, or from the use of tobacco. Drugstore shelves are stacked with tooth-whitening products, including many tooth­pastes.
But the question is: do they work?
Although some work well, they typically produce only modest improvements. Some people apply peroxide to their teeth with whitening strips, gels, pens, and traditional tray-based systems.
Things like peroxide-coated strips are thin and almost invisible and some get good reviews. You typi­cally use the strips twice a day for 30 minutes for two weeks or so. Gels, on the other hand, are applied to teeth with a small brush, usually twice a day for two weeks. Whitening pens are similar to the gels. Tray-based systems come with one-size-fits-all trays or mouth guards that you place over your teeth to hold the chemical.
What about the dentist?
A dentist will utilize custom-fitted trays and a stronger solu­tion of peroxide in the office or will supply them for home application. This is usually the most effective and safest way to bleach.
Are there risks?
Bleaching can tempo­rarily increase tooth sensitivity and irritate gums, especially with higher concentrations of peroxide. It is also possible that tooth enamel may be weakened by excessive bleaching, so it's best to consult a dental professional. People with very sensi­tive teeth and those with periodontal disease or worn enamel should definitely not bleach without consulting a dentist first.
Final Word
Consult your dentist about the whitening options. If you use a home kit, follow the directions and don't use it for more than two weeks unless advised by a dentist. If your teeth become sensitive, stop bleaching for a few days or do it for half the time rec­ommended. And never have your teeth whitened by someone without proper dental training!