When Should My Child First See a Dentist?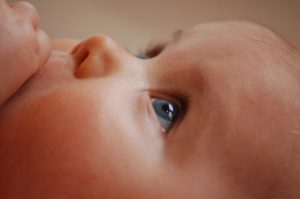 Many parents often ask, "At what age should I schedule my child's first dental visit?" The American Academy of Pediatric Dentistry recommends, "First visit by first birthday." They suggest that the best time for a child's first dental check up is when they turn one.
The idea of such early dental visits can be surprising to many new parents. National studies have shown an increasing number of cavities in preschool-aged children. Many kids develop cavities as early as age two.
To prevent early childhood cavities, parents first have to find out their child's risk of developing cavities. They also need to learn how to manage diet, hygiene and fluoride to prevent problems.
What to Expect at the First Visit:
The purpose of the first visit is to learn about your child's oral health in order to prevent problems from occurring in the future. Many dental problems can be prevented or easily treated during the early stages. Find a comfortable and safe dentist who places your child's oral health as a top priority, and thoroughly answers all of your questions and concerns. Here are a few things to expect at your child's first dental check-up:
• A detailed and thorough examination of your child's jaw, teeth and gums
• Cleaning and polishing of all teeth and the removal of stains
• Questions from your dentist about your child's health and eating habits
• Dental x-ray of your child
• Advice on routine care for your child's oral health and development
Before you leave the office, you should know what you and your child's dentist can do together to ensure that your child has excellent oral health. At Longmeadow Family Dental Care, our team is dedicated to providing you with the highest quality of service you and your child deserve. To schedule a first dental visit for your child, make an appointment with your Longmeadow dentist today.