The Most Dangerous Sports for Your Kids' Teeth; When to Wear a Mouthguard
As a new school year begins, many of our kids will be hitting the fields, the courts, the ice and more as they participate in team or individual sports. While some sports require equipment such as pads and helmets, one piece of equipment can be overlooked. It is the mouthguard.
While mouthguards offer protection from the loss of teeth due to contact, they can also provide protection against concussions… as in ice hockey, for example. In this sport, the intent is not to prevent tooth loss since youth hockey requires a full cage to be worn, but instead it offers a cushion between the molars in the event of a collision with another player or the boards. This can help provide protection against concussions.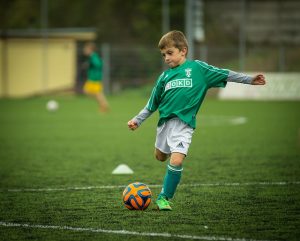 Regardless, here is a list of the top sports for damage or injury to teeth.
Basketball
Football
Any game using a ball or stick, such as hockey (ice, field, roller), baseball, and lacrosse for example
Boxing, wrestling, and martial arts such as judo, taekwondo or karate
Skateboarding or "extreme" sports
Now, while many youth leagues do require mouthguards as standard equipment, it can really come down to someone such as a parent, coach, referee/umpire, or school actually enforcing the policy.
When should your child wear a mouthguard?
The National Youth Sports Safety Foundation estimates that in any given year, 3 million teeth are knocked out during organized sporting events. According to the American Dental Association, you should always wear a mouthguard for the following sports:
Basketball
Boxing
Equestrian sports
Track and field events
Field hockey
Football
Gymnastics
Handball
Ice hockey
Inline skating
Lacrosse
Martial arts
Racquetball
Rugby
Soccer
Softball
Squash
Volleyball
Water polo
Wrestling
Extreme sports
What type of mouthguard should I choose?
There are a wide variety of mouthguards on the market at all price points. But the best way to start is to visit your dentist and ask about getting a custom fitted mouthguard. That way, it will provide the individual fit for your child's teeth, providing the best mode of protection.
Make an appointment today with your friends at Longmeadow Family Dental Care.